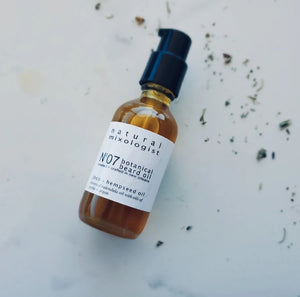 Organic & Wildcrafted. Utilizes the power of plants to heal, nourish, and restore the skin. Our ingredients are wildcrafted, plant-based, and organic.
This herbal beard oil is infused with fresh and organic botanicals of calendula and comfrey leaf. Premium blend has natural botanicals and plant-based oils that target hair growth, conditioning, beard, and underneath your beard skin health. This oil is full of minerals, vitamins, and antioxidants to help feed your beard. It will promote healthy hair growth.
Aroma: earthy and spicy
Ritual for grooming: apply after washing, or anytime your beard needs to look more impressive.  
ingredients: infused calendula*† and comfrey leaf* †( sweet almond oil*), argan oil*, sweet almond oil*, grapeseed oil, hempseed oil non-gmo vitamin e*, and essential oils of clove* and juniper berry*.
*organic