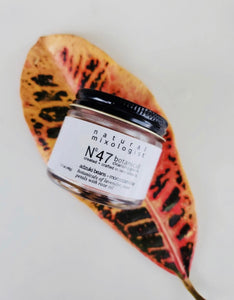 Organic & Wildcrafted. We believe in the power of plants to heal, nourish, and restore the skin. Our ingredients are wildcrafted, plant-based, and organic, potent plant life that is active and powerful. "Your skin will feel the difference" and "You will see the difference."

Our botanical cleanser/mask has adzuki beans powder, which is an extraordinarily ultra-fine & gentle cleansing grain, that gently exfoliates the skin. The addition of Moroccan clay, organic rose petals, and organic lavender gives this mask potent plant power.

Our cleansing grains are gentle enough for everyday use and full of soothing botanicals. Our cleansing mask cleanser using 100% botanicals - without the detergents, preservatives, and other synthetic ingredients of typical cleaners that can interfere with your skin's barrier function and microbiome. It works as a daily cleanser, exfoliator, and mask, keeping the skin fresh and free of superficial debris. It is rich in antioxidants, anti-inflammatories, vitamins, and minerals that build the skin's resilience. The practice of performing daily gentle exfoliation keeps the skin clarified and free of excess oil, dirt, and cellular debris.
Ritual to Cleanse: Always dip into your grains with a clean, dry spoon to extend their lifespan. Add a tiny bit of distilled water or hydrosol water to a small spoonful of cleansing grains in your palm to make a paste. Massage onto wet skin, then rinse with warm water. To use as a masque, simply mix as directed, massage onto skin and leave on for 10 minutes. Rinse with warm water. 
Aroma: Rose + Lavender
ingredients: adzuki bean, moroccan rhassoul clay, rose petals powder*, lavender flower powder, essences of *rose otto and lavender *
*organic