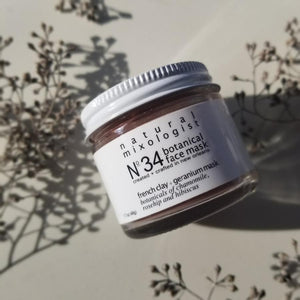 Organic & Wildcrafted. We believe in the power of plants to heal, nourish and restore the skin. Our ingredients are wildcrafted, plant-based and organic. Potent plant life that is active and powerful. "Your skin will feel the difference" and "You will see the difference"

Our beautiful rose clay mask is made with only the best and purest ingredients. It sucks out all the impurities and toxins that are stuck in the pores.

Using the power of plants, minerals, organic rosehip powder, hibiscus powder, and chamomile flowers helps reduce acne and alleviates redness. At the same time, gently exfoliates and nourishes the skin for optimal functioning. This delicate mix of botanicals draws and detoxifies, leaving skin soft, smooth, and nourished. With the addition of organic rose geranium essential oil, this mask is a treat for your skin and your senses!
Ritual for Mask: take a ceramic bowl, Mix a small amount of the mask (about ½ a tbsp.) with about ½ tsp of hydrosol water, milk, or apple cider vinegar until you create a thick paste. Add more liquid if necessary. Apply paste to a clean face and let dry (10-15 minutes). Remove by rinsing with warm water. Follow with a toner to balance and hydrate the skin. Finish with our facial balm or our facial serum to restore moisture. 
Aroma: Roses
Key Ingredients:
French Pink Clay -  is great for cell renewal, skin rejuvenation, and improving elasticity in the skin. It is high in Iron Oxide and Silica which help regenerate skin tissue.

Rosehip - Comes from the fruit of the wild rose plant, naturally rich in essential fatty acids Omega 3, 6, and 9 that regenerate skin cells and repair damaged tissue. Also high in trans-retinoic acid which aids in preventing premature aging.
Hibiscus - Called the "botox plant" for its ability to naturally lift and firm skin. Loaded with natural alpha hydroxy acids to gently exfoliate and improve skin's texture.
Chamomile Flowers - Chamomile is a fabulous skincare herb and is suitable for all skin types. As it is so strongly anti-inflammatory, it is particularly suited to sensitive skins that are prone to inflammation.
 
ingredients: French pink clay, rosehip powder*, hibiscus powder*, chamomile flower* powder and rose geranium oil*
Customize this mask to fit your skin needs by changing the liquid you mix it with.

Dry Skin- hydrosol (hydro) water, milk, cream, yogurt or honey

Combination Skin - honey, tea, hydrosol water (hydro), or plain water, apple cider vinegar
*organic