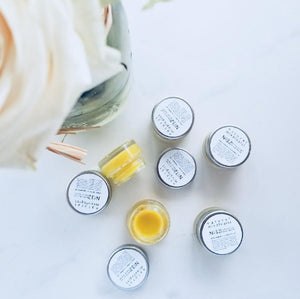 Organic & Wildcrafted. We believe in the power of plants to heal, nourish and restore the skin. Our ingredients are wildcrafted, plant-based and organic. Potent plant life that is active and powerful. "Your skin will feel the difference" and "You will see the difference"

We infuse calendula and comfrey leaf oil with turmeric powder; this combination has powerful anti-agers that promote collagen and elasticity and leave the skin visibly plump and revived. Turmeric helps to clear acne scars and inflammation but also reduces oil secretion. This face balm melts on touch to a golden fluid that protects, soothes, and moisturizes the skin with essential oils of geranium and lemon, which gives it a great, floral, and citrus scent.
Key Ingredients
Shea Butter -  is excellent for moisturizing the skin.
Calendula Flowers - is high in beta-carotene that works to increase collagen production in the skin. 
Comfrey Leaf - its high content of allantoin is really its claim to fame. Allantoin has soothing, firming and tightening properties.  It can help reduce the appearance of fine line and wrinkles and many find it to be effective for oily skin.
Turmeric Powder - is effective for acne due to its antiseptic and antibacterial and anti-inflammatory properties which fight pimples and breakouts to provide a youthful glow to your skin. Turmeric helps to clear acne scars and inflammation but also reduces oil secretion by sebaceous glands.
Tamanu Oil - has been found to minimize scarring and speed growth of healthy new cells. It also restores elasticity and hydration balance to the skin.
Carrot Seed Oil - antioxidants in this essential oil repair a lot of the damages done to your tissues by oxidants (free radicals) and stop them from doing further harm. Carrot Seed oil is rich in Carotene and Vitamin-A, both of which are very beneficial for the eyes and are effective antioxidants.
use: apply this nutrient-dense balm into the skin after cleansing and toning. best when applied after cleansing and treating the skin with our botanical hydrosol toner water. apply the balm to lock-in moisture and provide protection. scoop a pea-sized amount and spread across forehead, cheeks, nose, neck and chin. Massage and press gently with both palms to blend into skin. 
ingredients: infused oil of calendula flowers* and comfrey leaf* (jojoba oil), mango butter*,shea butter*, sweet almond oil*, tamanu oil, evening primrose oil, turmeric powder, turmeric essential oil*, pomegranate seed oil*, beeswax*, non-gmo vitamin e*, South African Rose Geranium Oil (Bourbon)*, blue chamomile and lemon oil*
*organic