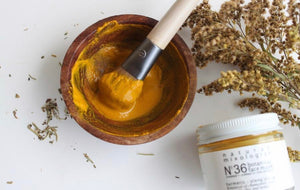 Organic & Wildcrafted. We believe in the power of plants to heal, nourish and restore the skin. Our ingredients are wildcrafted, plant-based and organic. Potent plant life that is active and powerful. "Your skin will feel the difference" and "You will see the difference"

Our Turmeric facial mask helps to cleanse and moisturize your skin gently. Turmeric, the Ayurvedic flowering herb, helps reduce inflammation and reduce the appearance of scars. In India, Turmeric is used ceremoniously before weddings as a good luck charm that results in soft, glowing skin. Turmeric's antiseptic, anti-inflammatory, antibacterial, anti-fungal, and anti-viral properties help with various skin problems relating to inflammation, clogged pores, redness, and uneven skin tone.
Turmeric root powder can heal and detox your skin. Our Glow mask is supercharged with the anti-inflammatory benefits of Turmeric, the toxin-magnet of Bentonite Clay, the healing abilities of chamomile flowers, and the therapeutic benefits of essential oils of tea tree and ylang-ylang.
If your skin is acne-prone, oily, and troubled, this mask is for you. I get lots of questions from people concerning breakouts, oily skin, acne scars, and other issues, and this is the mask I recommend. This mask has all-natural ingredients, no nasty toxins or preservatives, to help you achieve healthy glowing skin. If your skin looks a bit dull from a late night out and needs a deep cleansing detox and exfoliation, this rejuvenating mask will brighten and refresh. 
TURMERIC- The antioxidants in turmeric make it a potent wrinkle fighter that fends off free radicals, sun damage, and environmental pollutants. Not only does this blend fight acne with its antibacterial properties and deep cleansing abilities. It also reduces the redness and scarring from acne and dark spots. Great for use as a spot treatment for pimples and other imperfections. 
HONEY- Honey is a naturally fights bacteria that causes acne. It's also a natural antioxidant said to relieve puffiness and moisturize skin. It is high in vitamin C and promotes collagen formation in the skin.
Ritual for Mask: take a ceramic bowl, Mix a small amount of the mask (about ½ a tbsp.) with about ½ tsp of hydrosol water, milk, or apple cider vinegar until you create a thick paste. Add more liquid if necessary. Apply the paste to a clean face and let dry (10-15 minutes). Remove by rinsing with warm water. Follow with a toner to balance and hydrate the skin. Finish with our facial balm or our facial serum to restore moisture. 
Aroma:  Ylang Ylang + Tea Tree
ingredients: turmeric powder*, honey powder,* bentonite clay,* chamomile flower powder,* tea tree oil*, ylang ylang oil*
organic